Enjoy the fabled life of the Polynesian Kings with a exotic dances and a bounty of food from the tropics. And don't forget to share some of the treasures of the South Pacific from our gift shop.
Tahiti Black Pearl has Floor Shows, Island Luau Feasts, Tropical Drinks and unique Gifts. Developing a growing business from local guests as well groups from afar. developed previously on a nearby coast where popular floor shows quickly made for a favorite attraction for both tourists and local guests.
Although the structure tragically burned and never was rebuilt, the successful operational and marketing plans along with the valued resources and talent were not forgotten while waiting for the opportunity to recreate another Polynesian Floor Show concept in the popular tourist area of Savannah, GA on the sub tropic South East Coast of the United States.
Although separated in their individual quests for economic treasure. Not unlike the mythical character of the Tahiti Black Pearl Legend, the owner spent years tracking down the love of his life to share the Treasure with her. Enjoy their dreams and adventures and inspire your own
Book Your Show Reservation Now!!!
The Tahiti Black Pearl Team
800 957-7095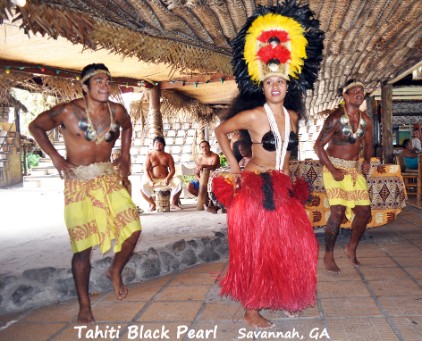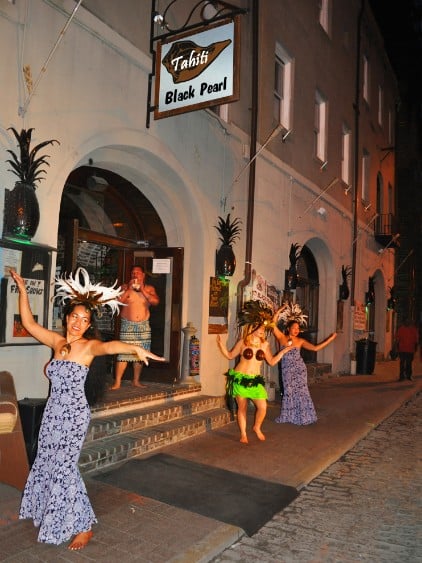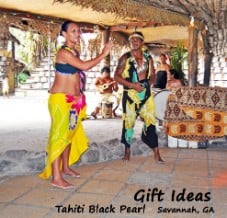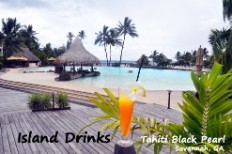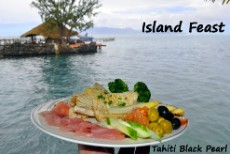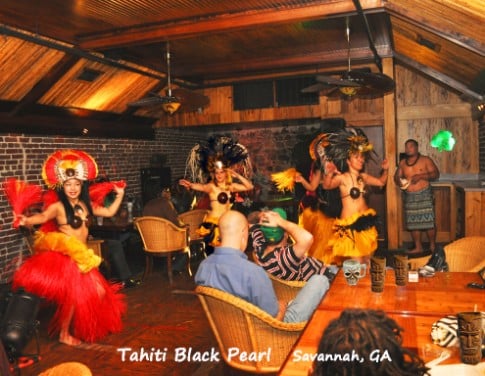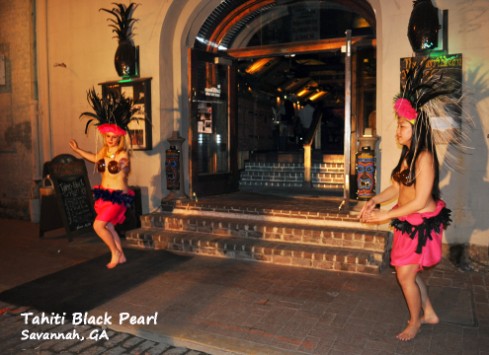 Recent News Update 3/27/2010 --
The initial opening went well as without much advertising or marketing efforts, the crowds were the biggest in town at our just acquired our location of 225 West River St of Historic Savannah, GA, USA in March of 2010.
Initially doing shows for the St Patrick's Day Celebration here in Savannah, GA with over 400,000 guests projected for this year's 5 day weekend which will only be topped by the Big Apple
We scheduled Tahitian Floor Shows 3 Pm in the Afternoon and Sunset / 7 pm for Saturday, March 13, Tuesday, March 16 and St Patrick's day on Wednesday, March 17. Then again on Friday, March 19 and Saturday, March 20!!!!!!!!
Our award winning Tahiti Floor Show has also been fine tuning with practice in Papeete Tahiti for some time and we look forward to their relocation here in Savannah in the coming weeks.
Your business is appreciated in the meantime, as we are updating the restaurant formally known as the Cobblestone Conch House with our Tahiti theme.
So while the changes are underway, please be patient and look forward to enjoying our special Mai Tais and limited menu which includes the traditional "Low Country Shrimp Boil" and our appetizers of which will be staged in for a more complete menu when the dancers arrive from Tahiti.
We look forward to making this a great experience for all involved, especially our guests!
Sincerely,
The Tahiti Black Pearl Team
800 957-7095
Ton Nom sur le Sable (Your Name on the Sand) - Music Video - Sylvanna Moea
Written and sung by disheartened Sylvanna Moea in one of the outer islands of Tahiti as her true love departed and disappeared to make a fortune seemingly never to return.
Although contact had been lost with challenging communications in their individual quests for economic treasure, They Never Gave Up Hope!
Not unlike the mythical character of the "Tahiti Black Pearl Legend", the long lost love of Sylvanna did successfully seek her out from a not readily recognized South Pacific island after several decades of searching.
Undaunted with challenges from Wall St. to the Alaska Arctic and onto Captain yachts in the Caribbean, her long lost love through advances in the internet, tracks her down and arrives to sweep her off her feet with passion and romance. He created this video to her song from the experience developed along with the wisdom acquired along they way.
Although an unbelievable Happy Ending at first glance, it actually becomes the beginning of a "Lifetime of Romance and Adventure" and the start of the "Tahiti Black Pearl".
Enjoy their dreams and adventures and become inspired with your own!
Visit them at their "Tahiti Black Pearl" floor show restaurant in Savannah, GA, USA or in their routine travels worldwide as they successfully enjoy the riches of life with or without money.
http://www.BlackPearlofTahiti.com
http://www.TahitiBlackPearlLegend.com
Enjoy Our Tahiti Floor Shows.......